HTML web development PHP MYSQL XML CSS JavaScript freelance ecommerce scripting domains
Exploring PubMed Citations Graph
C. Moore Fine Art
snapspans.com
How To Sell Things That Don't Exist
[blog]
Technology Evolves => Watch it happen.
The most resourceful thrive. With a geometrically expanding information base, resourceful means not just knowing how to find information, or knowing who to ask.
It means leveraging open source technology to harvest facts and knowledge.
It means harnessing powerful tools to turn ideas into features, and data into insight.
It means using techBio to access the broad range of the web community.
TechBio develops and adapts cutting-edge computing resources for businesses, groups and creatives. A locus of computer-aided knowledge extraction, communications, audiovisual media description and predictive modeling, techBio innovates for insight.
Silicon precision and cellular wisdom.
---
TechBio Development Group Projects
Snapspans - USA Directory Listings Palindrome - snapspans.com
The below are from 2011 and earlier and no longer available in the form they were created.
BoatBoss - Boats For Sale - boatboss.com
Amp Note - Guitar Amplifiers Info and Classifieds - ampnote.com
Allusi - Sunglasses, Eyeglasses, and Quality Optics - allusi.com
ABC/Redo - A/B Testing Tools - abcredo.com
TimeTapper - Simple SMS/Text Message Time Monitor - timetapper.com
Classificity - Free Online Classifieds - classificity.com
Acres For Energy - Renewable Energy Mapping for Wind and Solar Power - acresforenergy.com
---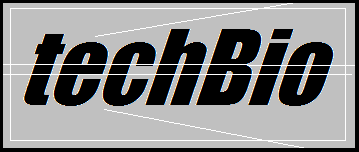 Web Development Contracts
[
Details List
]
Work on following sites was all done prior to 2008, all have changed since, most are no longer available in the same forms to which I contributed.
KookyCoconut.com - Cafe, Indian Rocks Beach, FL
Nanoscience World - Nanotech News/Directory - http://www.nsti.org/news
Amvona.com - Photography Social Network - http://www.amvona.com
PureVolume.com - Indie Music MP3s - http://www.purevolume.com
GiveBeauty.com - Salon and Spa Gifts - http://www.givebeauty.com
DrumlinFarm.com - NY Development Land/Properties - http://www.drumlinfarm.com/
CoolWindowshades.com - Budget Blinds, Minnesota - http://www.coolwindowshades.com
TheOnion.com - The Onion Online - http://www.theonion.com
NOTE:
WORKED AS EITHER CONTRIBUTOR, OR LEAD DEVELOPER.
See list for more details.
>
close]
[
Previous Contracts
Classifieds/Directory Website Customization
Improved linking, layout, design, search functions and other features on highly regarded marine classifieds site. (XZero, PHP, MySQL, HTML)
Real Estate Listings Site Improvements
Customized search features on New York city area local real estate listings site. Performed Internet research, HTML edits.
Nanoscience Market Research
Created scripts and performed manual search and reporting to discover nanoscience academic and industry professionals for scientific community newsletter. Built Custom Google Search Engine.
Smartphone Application User Testing
Participated in evaluation study of a new voice activated cellphone search application.
MySQL Database Migration
Assisted a remote client with transferring an OSCommerce MySQL database to a new webserver/hosting environment, with PHPMyAdmin and a custom script.
WordPress Layout Editing
Fixed layout in a WordPress Blog theme.
Data Harvesting
Collected company contact information (thousands of records) from an online database.
New York Films Secured File Transfer
Built PHP page to allow producers and clients to exchange files related to filmmaking projects.
"James Dean: At Speed" Book Website
Built website for book release--author info, about the book, other work, comments and contact, purchase.
PureVolume Tracking
Contributed object-architecture to system to track hits and clickflow of band listings, ecards, song downloads. Also implemented scripting for dynamic pages (single page changes itself to respond to user without reloading).
Tranquility Lifestyles
Extended a shopping cart system to handle shipments to multiple addresses.
Beacon Street Girls
Small project to fix a cartoon character quiz game.
Drumlin Farm Development Property (FSBO)
Created a page for a private owner to update and display sales information about a 170 acre Upstate New York development property.
Coolwindowshades.com
Transformed static first generation webpage into a clean, active web presence and information platform.
GiveBeauty.com
Created online credit-card processing, user accounts, promotions, sales/shipping process, gift card activation and administration elements for spa/salon network.
TheOnion.com
Brought four years of archived web issues to consistent database-backed content management system.
CUNA Investment Game Prototype
Interactive videogame prototype for multi-user financial decision-making (ages 11-18).
QuickBASIC GUI Environment
Created an ASCII terminal graphical environment for QuickBASIC. Also created animated display of sorting and algorithm comparisons.